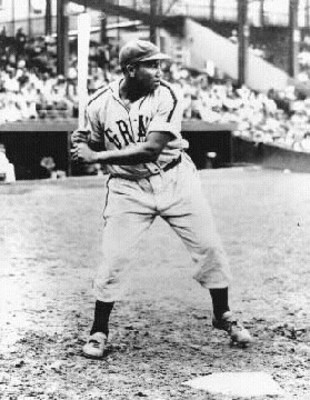 "Who is the greatest baseball player of all time?" That was the question asked of Tim Kurkjian, baseball guru at ESPN. He mulled the names of the usual suspects aloud - Ruth, Mays, Bonds - and then settled on Babe Ruth. Satisfied with himself, he and the hosts of the Mike & Mike radio broadcast went on to other topics. Nowhere did the name "Josh Gibson" enter the debate.
Babe Ruth played his entire career against all-white teams in the Major Leagues. During the same time, a man named "Josh Gibson" was playing his entire career against all-black teams in a parallel universe - a universe they call "The Negro Leagues."
The Negro Leagues began forming in the early 1920's because the black man was not allowed to play in the white man's league. They were the same men - American men. They shared an equal love for the game. They even played by the same rules; their ballparks bore the same dimensions. But, officially, these leagues and their players never crossed paths.
The two leagues did, however, play each other in exhibition/all-star games, during which time the Negro leaguers regularly beat their major league counterparts. Pitcher, Smokey Joe Williams, a teammate of Gibson's on the Homestead Grays, won 20 games and lost 7 against major league competition.
For the record, Josh Gibson played most of his 18 year career for the Homestead Grays. A catcher, he led the league in home runs ten consecutive seasons. In 1936, he hit 84 home runs. (The most Ruth hit in one season was 60. Ruth hit 714 home runs over his 20 year career.) Afflicted with a brain tumor, Josh Gibson died of a stroke at the age of 36. The year was 1947, the same year Jackie Robinson broke the mythical "color barrier" in major league baseball. For his career, Gibson hit 962 home runs and batted .347. Against major league pitching, he had a .426 batting average.
But for racism, Josh Gibson would reign Bunyan-esgue in this country. Racist convention deprived him of his due 80 years ago. How is it that in this enlightened 21st century society, those rules of exclusion still apply?
We, in this country, will declare Robert E. Lee "America's most beloved general", though he championed a Confederacy whose ultimate goal was to extend slavery in America. And there is no end to our celebrating of Ruth, though he be the standard-bearer of "Jim Crow" baseball. Yet, we shun Josh Gibson who played in a league where there was little money, but an abundance of heart. With hat in hand, and an indomitable spirit, he raised the roof on America's game when few Americans were looking. Perhaps the most prodigious of all of America's sports stars, we still refuse him his place among the pantheon of legends.
As much as we bemoan the racial divide in this country, we continue to pick at it with our curious remembrances. They are shameless celebrations unbefitting a great nation however we drape them in bunting.
On the strife-torn African continent, nations have established Truth and Reconciliation Commissions. Their purpose is to confront demons of the past, and to purge as many of those demons as humanly possible.
Perhaps it is time for America to set things aright - to try some "Truth and Reconciling" of its own. It can start with its shameful treatment of an American hero who took America's great pastime to a new level.